Wilderness Fox Philosophy
Maureen and May believe that you stop along the trail to take it all in. Wildflowers, beautiful fall leaves, a hawk gliding across a gorge, soaking your feet in a pond below a waterfall...we stop and enjoy it all. No rush to get to the end of the trail. It is not the destination but the journey there.
The Adventures
Wilderness Foxes enjoy a three-day weekend on our adventures. We depart from a predetermined meetup spot in the Nashville area and we are usually back by early afternoon on Sunday. The adventure may be a hiking trip to a waterfall or a canoe trip to a great swimming hole. Many trips include a stop at one of the many excellent Tennessee wineries for a tasting.

Included in your adventure is transportation from meetup point in Nashville area, food, cabin fees (shared sleeping quarters in some cabins) and use of equipment required. If we are forced to cancel, the trip will be rescheduled or your fee refunded.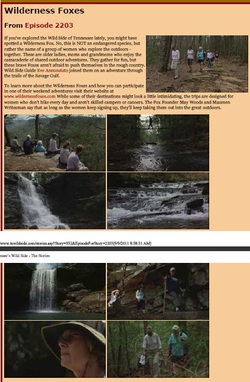 Foxes in the News
Tennessee Wildside, PBS Television, reported on a Wilderness Fox trip to Savage Gulf. It was a fun day. The crew followed the group on a trek across the Savage Rim Trail and to Greeter Falls.

The Foxes have also had articles in the Tennessean, Indiana Star and the Knoxville Sentinel Newspapers

---