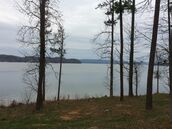 Eagle Watch (Lake Guntersville AL)
February 9 - 11, 2018
This adventure takes us to Lake Guntersville in Alabama. We will be in search of great American Bald Eagles which are plentiful this time of year at this location. Our journey will also take us to High Falls and on the way a tasting at Prichard's Distillery.

---
Reelfoot Swamp Canoe Adventure -
March 9 - 11, 2018
In 1811-1812 a series of earthquakes caused the Mississippi River to flow backwards forming Reelfoot Lake making it a flooded forest. We will canoe through the swamp on a ranger led adventure viewing owls and eagles. No need to be an expert paddler. Not much skill needed to navigate the tree lined canals in the swamp. We will also enjoy wine tasting and watching the sunset from our deck.


---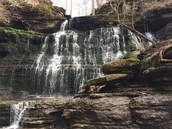 Machine Falls Hike - April 13 - 15, 2018
A beautiful drive to Short Mountain Distillery and a tour of historic Woodbury TN Our hike on Saturday takes us literally into Machine Falls. Wildflowers pave our trail. If we haven't hiked enough after Short Springs, we can hit the greenway along the river at our cabin or just relax while Maureen and I cook up our supper.
---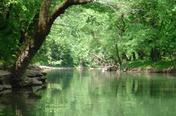 Duck River Canoe Adventure
June 1 - 3, 2018
We will paddle on the Duck River, picnic on a sandbar and swim in this lazy stream. Did you know the Duck River is the longest river located entirely within the state? It is also the richest river in varieties of freshwater animals in North America. Our float down the river will give us many opportunities to stop - wade in the water, swim, or just sit on a sandbar and watch Blue Herons, fish jumping and turtles sunning.
---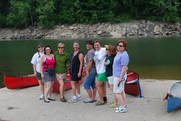 Rock Island Camping/Canoeing - Fox 10th Anniversary Trip
September 7-9, 2018
Our first Wilderness Fox adventure was Rock Island. We are returning to our roots with a weekend of camping and canoeing. We hope some of our Fox alums with join us to celebrate. The weekend will be filled with canoeing, camping, swimming, dutch oven cooking and sitting around the campfire reminiscing. Please register by June if you want to join us.
---
Woolly Worm Festival (Banner Elk NC)
October 19-21, 2018
Yes, Woolly Worm Festival! Friday we'll drive to our cabin on Roan Mountain. Saturday we'll head to the Festival at Banner Elk where we will watch woolly worms race and enjoy the crafts at the festival. Before we head back we will visit Mast General Store in Boone NC and have a picnic after checking out all the cool stuff in the general store.